Family Time materials from FamiliesAlive® are designed to help parents with an age old problem. How can our family have a consistent and meaningful time together studying God's word and worshipping the Lord? What we offer is a unique package designed to encourage families to regularly have a family time that stimulates discussion and learning. Most of all, it helps encourage parents and their children in their relationship with the Lord. Developed by a pastor and two schoolteachers, here is a fun and creative approach that everyone will enjoy.
Our first series, Words of Grace, helps kids understand the Ten Commandments. Presented as a gift from God to give us the best kind of life, each commandment is summarized in one easily learned word. In Words 1-4, using stories from the Bible, our children learn what it means to have a relationship with the Lord. Right now, Words 1-3 are completed and we are writing Word #4. In Words 5-10, our children will learn what God expects in our relationships with others.
We have produced video tutorials that introduce Family Time and give parents a jump-start in using these materials.
Please note: FamiliesAlive® offers all these materials FREE to members. There are 20 chapters currently available to members of Familiesalive.org, with more coming regularly.
Access everything by becoming a member now, It's Free!
Check out the preview story for our new Family Time series:
Jesus, Who Are You?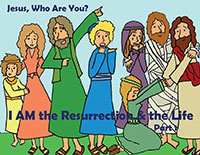 I AM the Resurrection & the Life – Part 1
Words of Grace
Word 1 – LORD